My family and I went to a new place at Tanjung Bungah which has been recommended by my cousin. Since every Sunday we always doubt where to head for dinner *yea common problem for all of us..lol* so is good that someone recommended some new place to us..lol! Then I recommend it to you all..good thing should pass the way round what..haha!
It is located at
Tanjung Bungah
, just opposite the
Esso petrol station.
Right in front would be the junction and the hawker centre already. Click here for the
map location
. I don't know how come I typed the address but it can't show exactly at the cafe. So you just go according to
Guardian Pharmacy
direction in the map then it should be there. :-)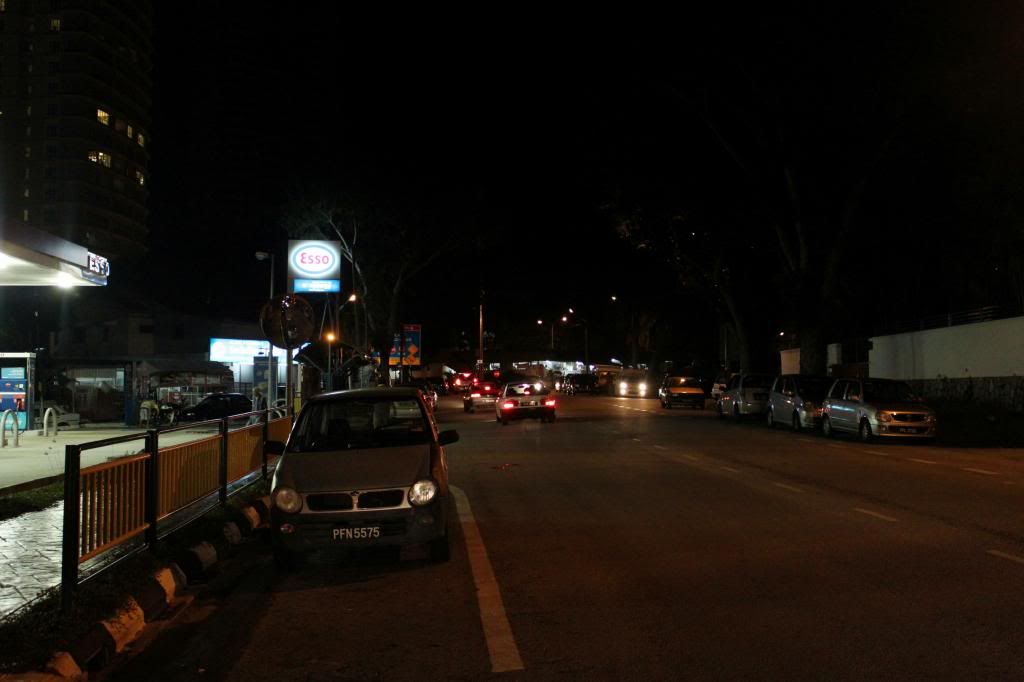 There are
vast selection of main course to choose from
and
the price range is consider reasonable.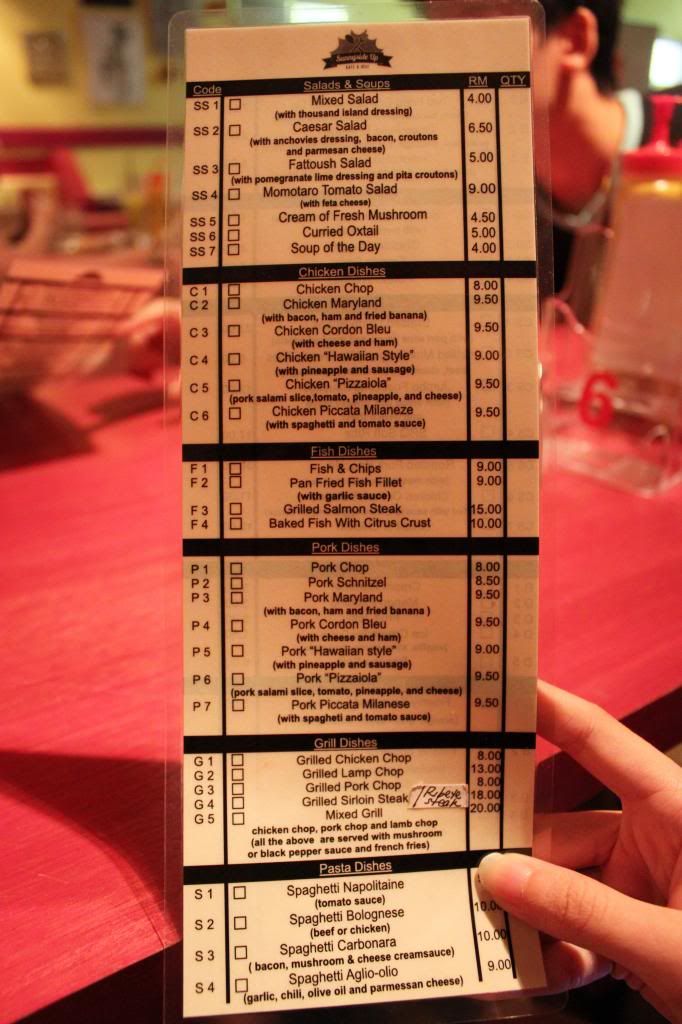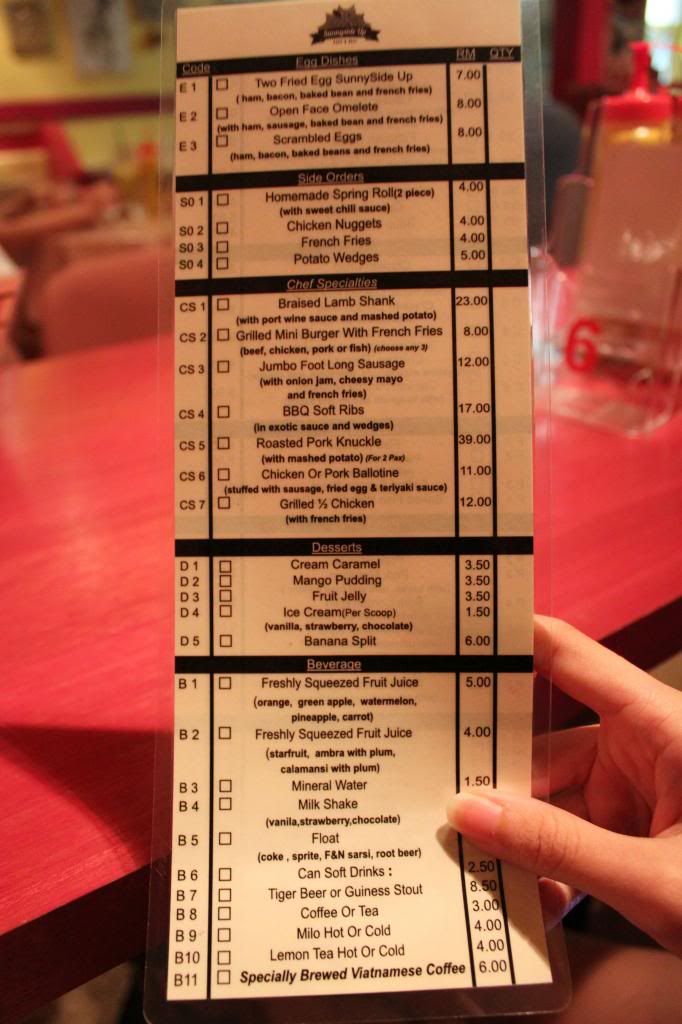 Soup of the Day RM4.00
Mushroom soup served with bun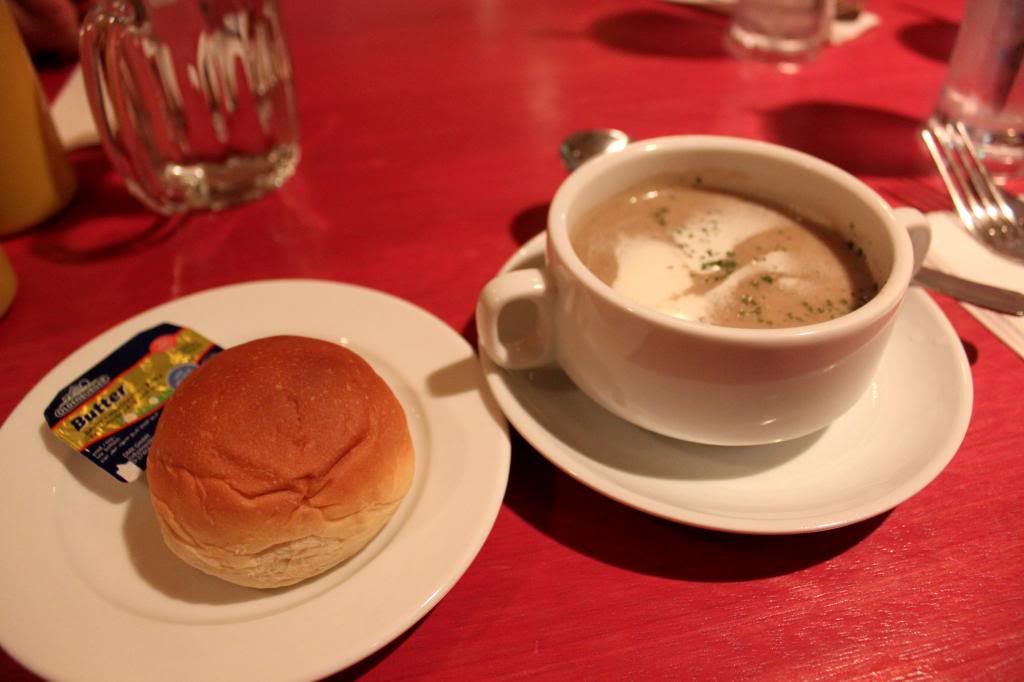 Starfruit Freshly Squeeze Fruit Juice RM4.00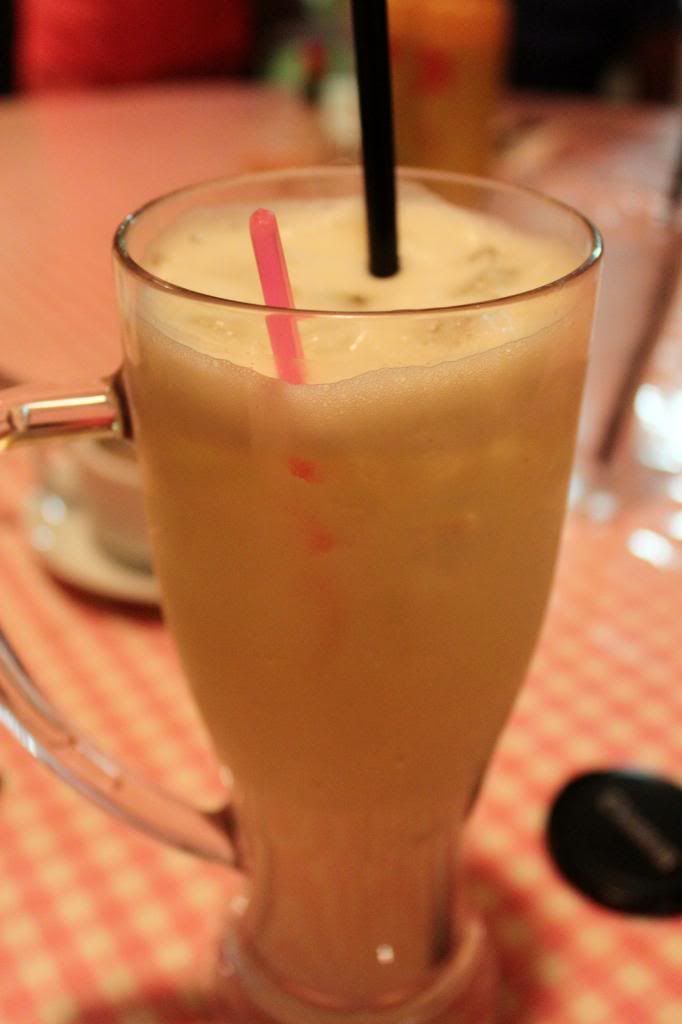 Dad ordered a salmon steak but I didn't snap that photo. We love the Salmon Steak it is very fresh and well cooked.
Braised Lamb Shank RM23.00
with port wine sauce and mashed potato
Mom loves the mashed potato. Lol..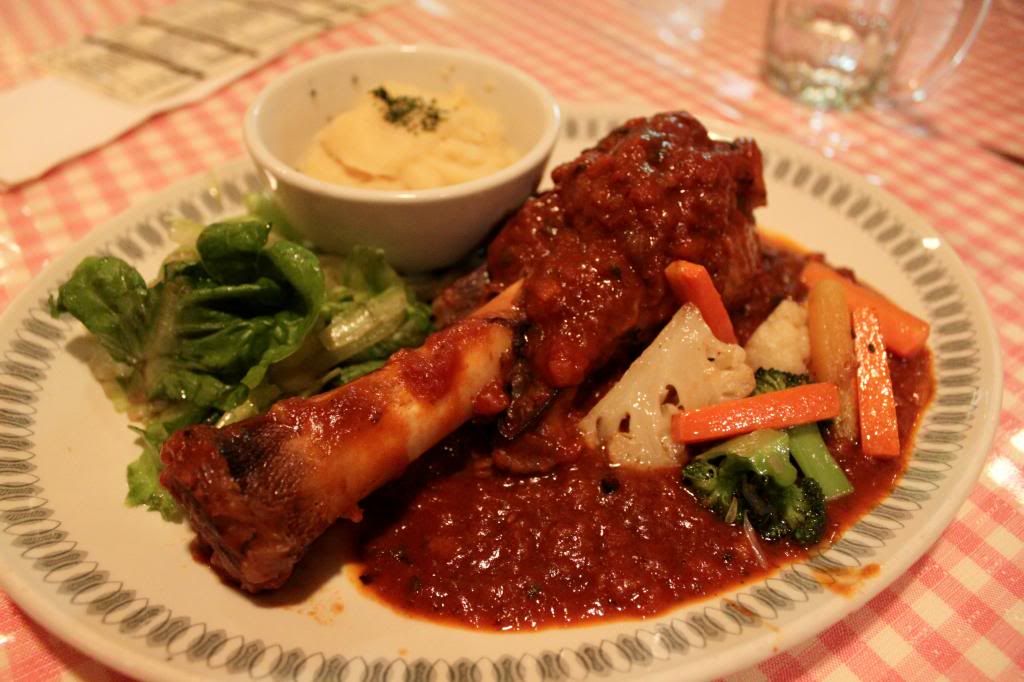 Chicken "Pizzaiola" RM9.50
pork salami slice, tomato, pineapple and cheese
I'm fine with the grilled chicken but I think it was a bit too salty and the portion is too small.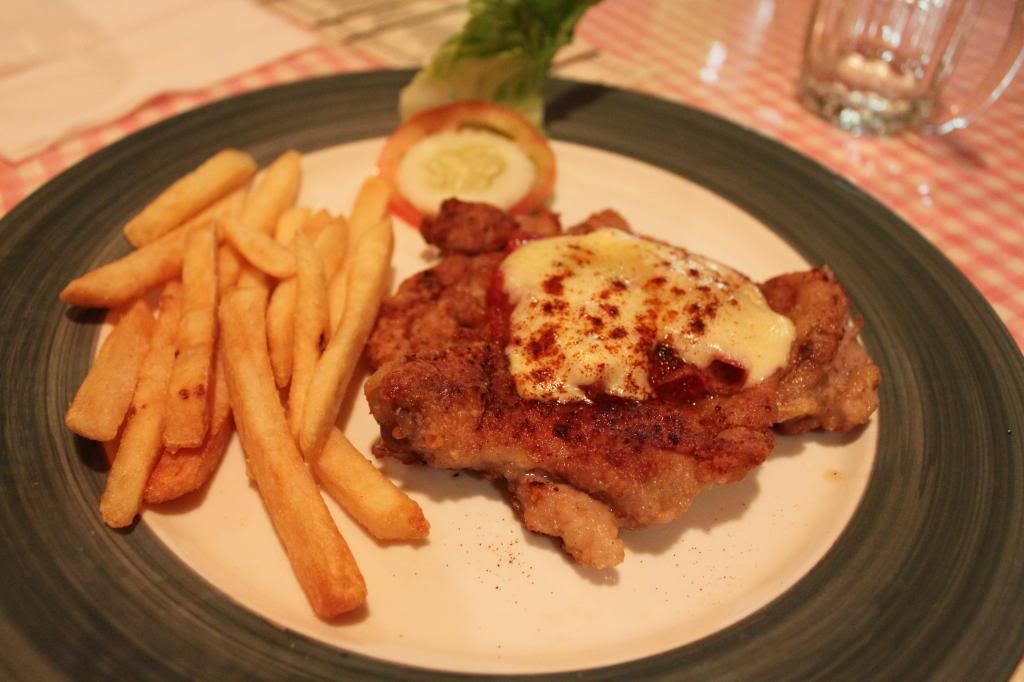 Spaghetti Aglio-olio RM9.00
garlic, chilli, olive oil and parmesan cheese
We think that it is too watery hence it become tasteless. Would not recommend for this.
Chicken Ballotine RM11.00
stuffed with sausage, fried egg and teriyaki sauce
The teriyaki sauce makes it tasted like Japanese food. Lol..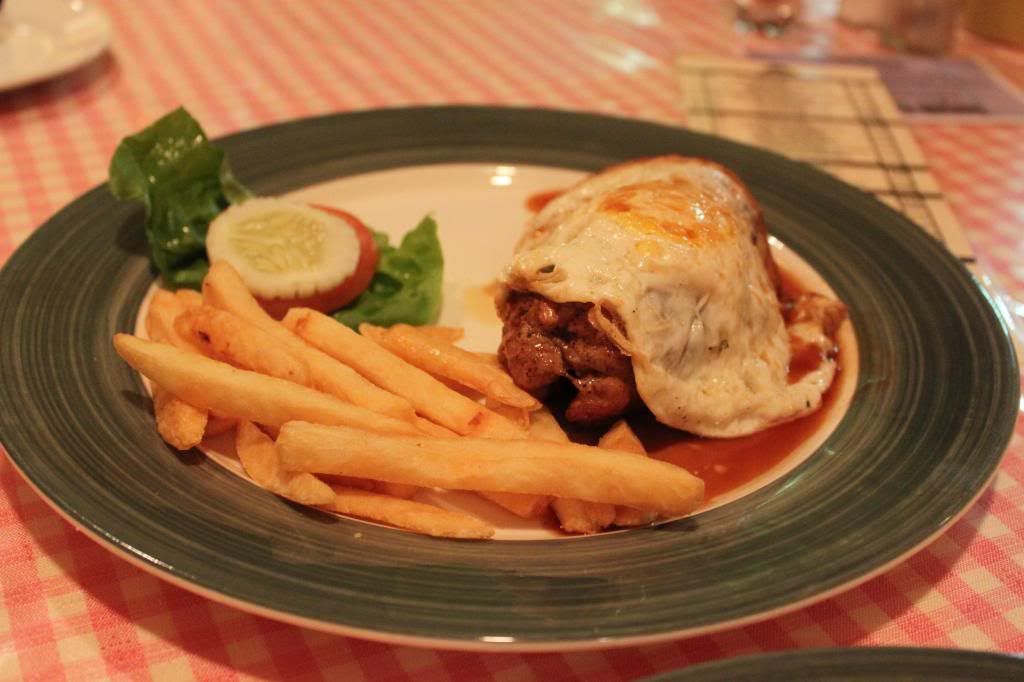 Some comments to provide to the cafe. We went on Sunday night to have dinner at 7 something, we have been waiting around one hour for the food to be served. The owner of the restaurant just apologize saying there are some mess up in the kitchen. And we realized there are not only us who are waiting, some people who came earlier has been waiting for so long. I asked my cousin did she experienced it before, she said she usually come on weekdays when the crowd is not that pack. So I would suggest if you wanted to try it out then it is better to make it on weekdays.
Perhaps when we went, some unforeseen circumstances really happened at the kitchen but hopefully they could improve on the speed of the food served, if not they can seriously turned down their customers.
Another thing is that the majority of food are quite salty such as mushroom soup or both of the grilled chicken. Only the salmon steak cooked perfectly.
That's it for the review from me about Sunnyside Up!
Call for reservation
Sunnyside Up Kafe and Deli
No. 3, Jalan Sungai Kelian
11200 Tanjung Bungah Penang.
Contact: 04-899 3500
Business Hour: Breakfast and Lunch 11am to 3pm Dinner 6pm to 10pm
Closed on Tuesday
Valid student card entitled 5% discount. No service charge and gov tax.